From The Principal Desk -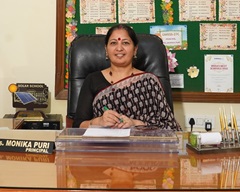 It's an immense pleasure for me to launch the website of Govt. Model Senior Secondary School MHC Manimajra, Chandigarh.GMSSS MHC Chandigarh is known for excellence coupled with all round development of students. The school aims at providing holistic education to the children with the right blend of the academic and the extracurricular.It aims at providing a platform where the children can recognize their innate talents and Polish them with the care and able guidance of the dedicated staff. Best Wishes and Blessing to each and every person who is associated with this institution.

The school nurtures a dream of "In pursuit of Excellence" and hence forth has the following Goals:-
1. Pursing the goal of academic excellence.
2. Inculcating respect for parents and teachers.
3. To strengthen the moral fabric of the children through inculcation of right values.
4. Give the right exposure to the children through extra-curricular activities.
5. To develop a sense of Nationalism so that they develop into zealous patriots.

The school's motto is "Strive, Struggle and Succeed" and everyone works for the accomplishment of the same. The school has to its credit clean and aesthetically designed campus, spacious play ground and a herbal garden. It is today standing with its head high as one of the most reputed model school of Chandigarh under the UT administration.
Mission, Vision and Focus of the School
Latest Information / Notices
Scholarships | Central Board of Secondary Education | Education Department
ePathshala | Chandigarh Administration- Employee Login
Udise-Student | CBSE-Academic | SSA-Chandigarh
-For any academic help students can contact teachers during working hours - "List with Contact no."
Download ePathshala App || ePathshala Website
-Read Online Text Books NCERT - Class 1 to 12th