From The Principal Desk - MR. RAJESH KUMAR , GMSSS, MHC, MANIMAJRA, CHANDIGARH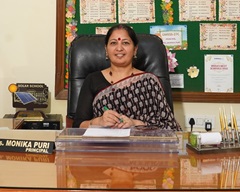 GMSSS, MHC, Manimajra has carved a niche for itself and holds a pride of place among the prestigeous institutions of the city.It stands tall today with its head held high as a premier model school of the city.It has been our endeavour to provide wholesome education to the students and provide a platform werein the students can hone their skills and polish their talents so that when they leave the institution they develop into responsible citizens, good human beings with a strong sense of right and wrong. We live today in a world that is very different from the one we grew up.It's changing at such an accelerated rate that we need to keep ourselves abreast with the times.The pandemic hit us all hard and specially the education sector had to face the brunt of the onstaught.Now the biggest challenge staring us in the face is to cover the learning losses incurred during the last 2 years.Our teachers have geared up and we will leave no stone unturned to cover up for lost time so that our students do not get to be labelled as the "pandemic generation".Our school is constantly scaling new heights and trying to train our children in a range of co-curricular activities.Our morning assembly is all inclusive and gives the students a headstart to the day.The 5 houses vie with eachother in terms of imparting moral values and principles, behavioural etiquettes and disciplinary ethics to the students. Increasing aggression and anger are on an increase among the students and to curb this yoga, sports and games have been made an integral part of the school curriculam. Exemplary dedication and hardwork are the hallmark of our staff and our efficient faculty strives hard to provide a positive and comfortable environment to the students so that they grow into curious learners, critical thinkers and forceful members of the everchanging global society. Our school has the coveted distinction of being placed 9th in the all school India rankings in 2020-21 and 6th in 2021-22 under the govt. day schools category in a survey conducted by . In keeping with the school's motto of strive , struggle and succeed it has scaled new heights and was the only government school among government schools to get 100% result at the senior secondary level during the session 2021-22.
I take this opportunity to thank all the parents who have reposed their faith in our school. It is said that 'Education is a shared committment between dedicated teachers,motivated students and enthusiastic parents. So let us all resolve to create a safe, secure and healthy environment so that our children can grow and bloom into sensitive and responsible citizens of the future.

Latest Information / Notices
Information Regarding Admission in Pre-Nursery, Nursery,Bal Vatika (Session 2024-25)
Indian citizens can enroll himself/herself as General Voter -
Register online to Vote - https://nvsp.in/ || Download- Form 6 - Application Form for New Voters
.......................................................................................................................................................
Scholarships | Central Board of Secondary Education | Education Department
ePathshala | Chandigarh Administration- Employee Login
Udise-Student | CBSE-Academic | SSA-Chandigarh
Download ePathshala App || ePathshala Website
-Read Online Text Books NCERT - Class 1 to 12th